This month we place the spotlight on Galaxy Surfactants Limited, the world's leading producer of oleo-chemical based surfactants. Surfactants and other speciality chemicals manufactured by Galaxy impart critical functional properties, texture, and market-positioning attributes to the end products manufactured by the FMCG giants. This together with need for high quality & safety (as these are used in personal care products), consistency, customisation and environmental considerations create strong entry barriers. Galaxy's competitive advantages are underpinned by its strong innovation focus (thanks to a strong R&D team), in-house engineering & project execution skills and adherence to high sustainability standards. The increasing consumer preference towards sustainable products like cosmetics and soaps based on Galaxy's oleo-chemical based surfactants/ speciality products provides an added advantage.
Performance update for the Little Champs Portfolio
At Marcellus, the key objective of our Little Champs Portfolio is to own a portfolio of about 15-20 sector leading franchises with a stellar track record of capital allocation, clean accounts & corporate governance and at the same time high growth potential. While we intend to fill our portfolio with winners, we want to be sure of staying away from dubious names where we are not convinced about the cleanliness of accounts or the integrity of the promoters (even though the business potential may sound promising) as the fruits of company's performance may not get shared with minority shareholders. We intend to keep the portfolio churn low (not more than 25-30% per annum) to reap the benefits of compounding as well as minimize trading costs. The Little Champs Portfolio went live on August 29, 2019. The performance so far is shown in the below table.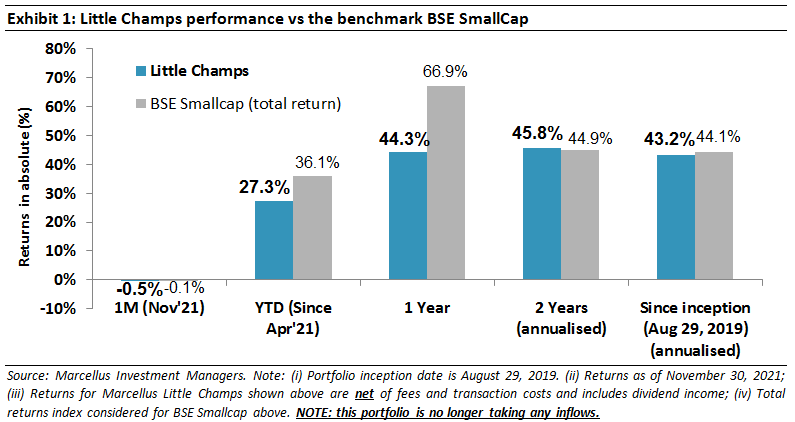 Stock in the Spotlight: Galaxy Surfactants Limited
This month we detail our investment rationale for Galaxy Surfactants Limited, a key holding in our portfolio. In the previous months we have written on: Garware Technical Fibres (August 2020), GMM Pfaudler (September 2020), V-Mart Retail (October 2020), Alkyl Amines (November 2020), Suprajit Engineering (December 2020), Mold-Tek Packaging (February 2021), Amrutanjan Healthcare (April 2021) and Fine Organics (May 2021).
Company background
Galaxy Surfactants Limited ("Galaxy" hereinafter) was started in 1980 as a partnership firm by five friends – Mr. Unnathan Shekhar (currently Managing Director of the Company), Mr. Geera Ramakrishnan (currently Non-Executive Director), Mr. Shashikant Shanbhag (currently Non-Executive Director), Late Mr C. R. Ramakrishna and Late Mr. Sudhir Patil – to supply surfactants to a leading MNC FMCG company in India. Surfactants were mainly imported in India at that point in time and Galaxy aimed to substitute those imports.  
Galaxy's performance surfactants (which form a substantive raw material in its customers' end products) and specialty care products (niche products rendering unique functionality to end products) provide functional properties to the end products. All of Galaxy's surfactants (except LABSA) are derived from oleochemicals (fatty alcohols) which are more sustainable and environment friendly than surfactants based on petro-chemicals. 
Over the years, Galaxy has worked on expanding its product offerings on the back of in-house R&D capabilities, integrating itself in global supply chains of leading home and personal care companies (HPC) and providing tailored solutions for products and application requirements of its clients. Today it has over 1,400 clients in more than 80 countries and a product basket of ~210 products across performance surfactants and specialty care segments ranging from mass market to high end markets across HPC product categories. In 1HFY22, the Company derived 41% of its consolidated revenues from India, 35% from AMET (Africa, Middle East and Turkey) and 24% from Rest of World (including the USA, a key market).
Key Products

Key applications

Key end-users

Performance Surfactants (63% of revenues, 45+ products)

Anionic Surfactants

FAES, FAS, LABSA

Foam and Dirt removal properties

§

Hair Care (shampoos, conditioners, colorants, styling gels)

 

§ Oral Care (toothpaste, tooth powder, mouth wash)

 

§ Home Care (carpet cleaner, toilet cleaner, detergents, fabric cleaner etc)

 

§ Skin Care (sun care, fairness creams, moisturizing creams, anti-ageing creams)

 

§ Cosmetics (nail polish, Lip Colors, Foundations)

 

§ Toiletries (hand washes, toilet soaps, body wash, shaving cream, lotions)

Non-Ionics Surfactants

Ethoxylates

Cosmetics and Personal care products as emulsifiers and solubilisers

Specialty Care Products (37% of revenues, 165+ products)

Amphoteric Surfactants

Betaines

Dermatological properties to reduces skin irritation

Cationic Surfactants

Quats

Effective conditioning aids: substantively to hair and antimicrobial properties

UV Filters

Sunscreen Agents (OMC, OCN & Others)

Absorb or block the harmful radiation, Mild for the skin with Moisturizing

Preservatives, Preservative Blends

Phenoxyethanol, Preservative Blends

Reduced toxicity & prevent spoilage

Speciality Ingredients

Mild Surfactants (MS), Proteins and Syndet & Transparent Bathing Bar Flakes, Surfactant Blends

MS: Cleanse adequately without compromising basic function of skin
Protein: cosmetic industry for conditioning, protection and strengthening of hair/skin, anti-irritancy, moisturization, etc

Fatty Alkanolamides (FA) and
Fatty Acid Easters (FAE)

 

FA & FAE: Foam, viscosity boosters and pearlizer in a formulation

Other Care Products

Conditioning Agents, Polyquats & Amine Oxides

Improves the quality of another material also called as moisturizers,
conditioning benefits for hair, etc.
Source: Company presentation, Marcellus Investment Managers
Financial performance:
Over the past decade (ending FY21), the Company has demonstrated stable and healthy financial performance with better than the underlying Home and Personal Care (HPC) products market growth. EBITDA has grown at strong double-digit CAGR as operating margins expanded faster than revenues due to scale benefits, increased share of specialty care products in the sales mix, and the ability to periodically pass-on the increased raw material prices to the customers. The company's high cash conversion capabilities and stable working capital days has enabled a healthy and stable RoCE over the years.
The Company did face some challenges in 1HFY22 and more particularly in 2QFY22. Consolidated volume growth was 3.3% YoY in 1HFY22 though the revenue growth was higher at 24.5% due to pass-on of significant increase in the raw material costs. Lower volume growth for 1HFY22 was mainly on account of issues surrounding the availability of the key oleochemical raw materials like lauryl alcohol due to the Covid-19 situation in South-East Asia, the key sourcing market. Besides the lower volumes, significant increase in raw material prices and freight rates further impacted the operating margin in 1HFY22. However, we believe these are transitory issues and performance should normalize in the coming quarters.
Key success factors for Galaxy 
§  Switching costs and stringent approval process of clients – Since the personal care products must adhere to regulatory standards for health and safety purposes, the HPC product manufacturers do not generally change their vendors unless the vendor is unable to adhere to quality standards or supply timelines. Furthermore, for MNC companies, the process of selection of vendors and allocation of business to them is longer and more stringent as potential vendors are evaluated on multiple aspects other than just the cost of the products i.e., on financial position, R&D track-record, environmental track-record, etc. The switching costs for HPC companies is also higher for tailored products across end-user categories. Such customized products involve unique molecular formulations co-developed with the customer to meet the requirements of specific end-use product. 
§  R&D capabilities – In the initial years, Galaxy benefited from the technical background of the promoters – particularly chemical engineering, cost accounting etc. However, over the years, the Company's R&D function has been institutionalised and currently there are ~74 professionals in the R&D team comprising of doctorates, chemists and engineers. As per our channel checks, most of Galaxy's R&D function is staffed with graduated and post-graduates from the IITs, the Institute of Chemical Technology (formerly UDCT) and the TKIETs (based in Warananagar near Kolhapur, Maharashtra). The Company adopted the "Innovation Funnel" concept in 2007 which leads to proactive product and solutions research by identifying consumer insights and needs by analysing market trends and by having strategic intellectual tie-ups with customers. The well-defined five stage funneling (ideation, feasibility study, capability building, product launch and, market development) has helped the company to diversify its product basket, meet changing customer & consumer needs. This has led to a consistent increase in the product basket from 109 products in 2009 to now close to 216 products with new products like sulfate-free cleansers (Galsoft GLI 21), UV filters (GalShield UV Care Plus), waterless cleansing formulations (Galsoft Tils (G)) in the recent years. Today, Galaxy has 80 approved patents and another 15 global patents applied. This has also contributed to improving product mix within the specialty care portfolio and thereby higher margins in the recent years.  
§  Diverse geographical coverage – From a predominant India focused exposure 10 years back, the Company has now built a diversified business across geographies. With huge scope in demand for consumer products and thereby performance surfactants the Company started growing into other emerging markets like Africa, Middle East and Turkey (AMET). This was done by setting up a new plant in Egypt to meet the demands of the customers in Egypt and adjoining countries. It is economically more prudent to set-up a performance surfactant plant in the end demand market to save the transportation costs. Company also diversified its business in the developed markets (western countries), where the specialty care products have more demand than the performance products. In 2010, company acquired a US company Tri-K Industries Inc. which provided them the easy entry to the western markets and help build on to the specialty care products portfolio which the Company had organically started in early 2000s.
§  Global shift towards sustainable products- As mentioned earlier, Galaxy's oleo-chemical based surfactants and specialty products are derived from fatty-alcohols which are extracted primarily from palm plants. Consequently, they are significantly safer and environment friendly compared to the petrochemical based surfactants. This has resulted in increased customer preferences towards sustainable & green surfactants like oleo-chemical based compared to the synthetic ones. This trend is expected to continue across a wide range of products in segments such as cosmetics, detergents, personal cleansing products, oral care, etc. without compromising on the performance. Galaxy could be a major beneficiary of this trend given its first mover advantage and market leadership in this space. Some of the key achievements of Galaxy which make it a leader in sustainability practices are shown in the below exhibit.
Galaxy has been able to differentiate itself from other surfactant manufacturers in Indian on sustainability front because of following reasons:
                i.     The trend analysis (from Innovation funnel) helped Galaxy identify shift towards more sustainable surfactants like sulfate free mild surfactants several years ago and the company's R&D team was able to deliver product to meet this need with products having global patents.
              ii.     Galaxy being integral part of global supply chains of leading HPC companies has to ensure that it is able to develop and deliver products which are more eco-friendly because its clients have publicly stated goals for reduction carbon emissions and fossil fuel derivatives.
             iii.     Galaxy's product development teams have been able to come up with not just 'Green' products but also with patented 'Green' manufacturing processes for such products which gives it an advantage over competitors focused only on products. 
Key risks
§  Down-trading due to weak consumer sentiment: As the Covid-19 induced economic disruption continues to play out across the world, it creates a risk of down-trading by consumers across the globe hit by lower disposable incomes. This down-trading would mean greater use of HPC products based on cheaper petro-chemicals based surfactants. 
§  High volatility in raw material prices: Fatty-alcohol prices have been very volatile in the last two years. Although management was able to control and hedge its costs to a large extent, continued volatility would pose risk to the margins of the company as any pass-through of raw material prices to its clients would come with a lag. 
§  Logistical challenges – Since the company earns substantial revenues from exports, the lack of availability of shipping containers and cargo ships could adversely affect company's supplies. This logistical issue is compounded by lower manpower at custom offices which further increases the supply timelines for international consignments. 
Regards
Team Marcellus
If you want to read our other published material, please visit https://marcellus.in/
Copyright © 2021 Marcellus Investment Managers Pvt Ltd, All rights reserved