This month we place the spotlight on Amrutanjan Healthcare, the second largest player in the Indian head pain balm category. Over the last decade, Amrutanjan has successfully mitigated the growth challenges in its mature core head pain balm category through new products, targeting the adjacencies (body pain, congestion) and foray into categories like sanitary napkins (Comfy). This success has been underpinned by product innovations (like roll-on), a revamped distribution model (moving away from wholesale dependent to direct model), improved processes (investment in technology/automation), an effective go-to-market strategy (right target markets, increased advertising) and most importantly through judicious capital allocation (outsourced manufacturing for Comfy, control on working capital). Inability to attract the required talent and any state intervention in the sanitary napkins segment are key potential risks.
Performance update of the Little Champs Portfolio
At Marcellus, the key objective of our Little Champs Portfolio is to own a portfolio of about 15-20 sector leading franchises with a stellar track record of capital allocation, clean accounts & corporate governance and at the same time high growth potential. While we intend to fill our portfolio with winners, we want to be sure of staying away from dubious names where we are not convinced about the cleanliness of accounts or the integrity of the promoters (even though business potential may sound promising) as the fruits of company's performance may not get shared with minority shareholders. We intend to keep the portfolio churn low (not more than 25-30% per annum) to reap the benefits of compounding as well as minimize trading costs.
The Little Champs Portfolio went live on August 29, 2019. The performance so far is shown in the below table.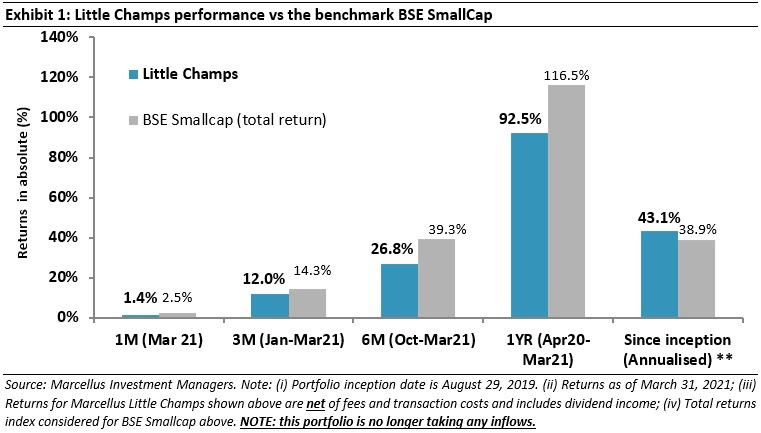 Stock in the Spotlight: Amrutanjan
As stated earlier, we will be communicating our detailed investment rationale on each of our portfolio stocks on a periodic basis. This month we detail our investment rationale for Amrutanjan Healthcare. In the previous months we have written on: Garware Technical Fibre (August 2020), GMM Pfaudler (September 2020), V-Mart Retail (October 2020), Alkyl Amines (November 2020), Suprajit Engineering (December 2020) and Mold-Tek Packaging (February 2021)
Company Background: Amrutanjan Healthcare was founded in 1893 by Kasinadhuni Nageswara Rao. The flagship yellow coloured Amrutanjan headache balm was amongst the first products launched by the Company. Over the years, the group ventured into several businesses like chemicals, non-bank financing, infotech, biotech, etc. However, not only did these other ventures not succeed, they eclipsed the relative success of the core head pain balm venture. In 2005, Sambhu Prasad Sivalenka, a fourth-generation promoter family member, took over as the Managing Director. Upon taking charge, Sambhu divested or closed down most of the non-profitable ventures. Once this objective was achieved, the Company refocused on growth by: (a) Improving the core head pain balm business by revamping the distribution network including geographic expansion beyond southern states, addressing changing market dynamics (towards white coloured balms), product innovations (roll-on), etc; (b) targeting adjacencies like body pain balm segment; and (c) forays into new FMCG categories like beverages and sanitary napkins through a measured capital allocation strategy.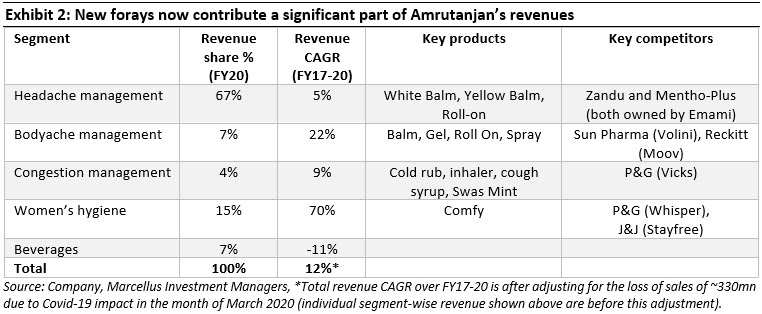 Despite growth challenges in the mature head pain balm category, entry into newer segments like sanitary napkins have enabled Amrutanjan to clock a healthy 12% revenue CAGR over FY10-20, higher than the 5% CAGR clocked over FY2000-10.  Most of Amrutanjan's products command high gross margin of ~50-60% (gross profit CAGR of 10% over FY10-20). However, in recent years, the Company has invested significantly in advertising & sales promotion spends due to a higher focus on brand building, expansion of distribution in West & North India and entry into new categories such as sanitary napkins (advertising and sales promotion spends as % of revenues increased from 8.5% in FY2014 to 16.6% in FY20). Hence the growth in net profits have lagged that of revenue and gross profit growth. Despite this, Company's return on invested capital (RoIC) has expanded from 39% in FY10 to 61% in FY20 (despite a hit from Covid in FY20) thanks to improvement in fixed assets turnover (through closing down of loss-making businesses and outsourced manufacturing for Comfy sanitary napkins) and reduction in working capital (from average 40 days in FY10 to 25 days in FY20). Given the accumulation of cash in recent years (net cash of Rs1,050mn at FY20-end), RoCE is lower than RoIC.

What do we like about Amrutanjan?
A. Product innovations and foray into adjacencies to address growth challenges: The head balm market in India is relatively saturated with somewhat less salience amongst the younger generations. Further, over the years the category has been witnessing increased competition from allopathic alternatives like paracetamol. Amrutanjan has addressed this issue in two ways. Firstly, by increasing its addressable market by increasing focus on the Body pain management and Congestion management in recent years. Body pain and Congestion are natural extensions of the Head balm market given the key ingredients as well as the supply chain remain largely similar. Secondly, the company has launched innovative formats for all the pain management products such as roll-ons, sprays and pain-patch which find higher traction with the younger generation. Roll-on has been one of the highly successful innovations for the company in Head & Body pain segments and now forms ~10% of the total net sales.
B. Improving business processes and thus operating efficiency consistently:
A revamped distribution model: Until 2009, Amrutanjan mainly followed a wholesale-oriented and pharma distribution model which offers low visibility and control over the channels as well as the lack of direct relationship between the company and the retailer. In 2009, the Company kicked-off an initiative to move from the pharma model to FMCG model of distribution with an intention to increase its direct reach with the chemists and kirana/grocery stores. The share of wholesale sales has come down from ~50%+ of total sales to ~30% of total sales over the last 10 years and the company has now established its direct reach at ~2.5 lakh outlets. At the same time company has been ramping up its presence in Modern Trade which accounted for ~10% of OTC sales in FY20.
Sales force automation: In 2018, the company initiated work on implementing SalesForce Automation which will further help the firm: (a) obtain granular data on outlets covered/SKUs sold, (b) shift from paper-based order taking to tablet based order taking feeding data directly into ERP, (c) with availability of granular and real time data for analytics and forecasting, and (d) monitor its field force on a real time basis. The biggest benefit of initiatives such as SalesForce Automation for a small company like Amrutanjan has been to overcome the scalability challenges as it expands into West & North India and scale up new categories such as sanitary napkins.
Increasing use of technology: Amrutanjan has rolled out a company-wide ERP and over the recent years has made further efforts in this direction by digitizing all the internal processes and implementing SalesForce Automation as discussed above. As we had discussed in our 2nd October 2020 newsletter (click here), early adoption of technology helps smaller companies not only overcome scalability related challenges but also generates higher operating efficiencies.
Improvement in HR processes: Amrutanjan has been improving its HR standards and processes over the recent years to attract and retain professional talent as the company grows and expands. More recently, the company engaged with consultants to design & devise a performance management system to bring it on par with industry standards. Another recent milestone for the company was the launch in 2020 of an Employee Stock Option Plan for the first time in its history.
C. Foray into sanitary napkins – potential to be a long- term game changer for the Company: Sanitary napkins is a ~Rs4,000crs market currently in India and has been dominated by Whisper (P&G) and Stayfree (J&J) for many decades. However, it remains a highly under-penetrated category with penetration levels anywhere between ~20-25% only at present due to issues such as lack of availability, awareness, and affordability.
Amrutanjan entered this category in 2013 with its Comfy brand and with a focus on first time users and cloth users in rural/under-developed areas where the penetration levels are even lower due to unavailability of high quality napkins at affordable prices. Amrutanjan has partnered with Bella Hygiene (a leading producer of women hygiene products and machineries in Poland and Eastern Europe) giving it access to superior technology to make a better-quality product and offer it at price which is 20-25% lower than that of the incumbents. This strategy has resulted in reasonable success with Comfy garnering double digit market shares in the Eastern states of Odisha (~17%) and West Bengal helped by relative under-penetration of the category in these states, Amrutanjan's superior brand equity, distribution and higher advertising spend relative to companies of its size in these markets. Comfy has also helped the company make an entry into North India region (where it has had a weak presence traditionally) by garnering significant market share in parts of Eastern Uttar Pradesh and Madhya Pradesh. Over FY17-20, Comfy sales have grown by ~70% CAGR and currently forms ~15% of the total sales of Amrutanjan. However, despite this high growth, Amrutanjan still has a miniscule share (<2%) in this fast-growing category thus indicating huge opportunities for the Company in this space.
Key risks:
Inability to maintain or increase resonance of balms: The preference for balms amongst the younger generation is relatively lower. Additionally, pharma companies are coming with allopathic alternatives supported by aggressive market campaigns. In such a scenario, there is risk of contraction or stagnation in the core balm business. However, so far Amrutanjan's efforts of launching innovative formats such as roll-ons – which resonate with the younger generation – have worked well.
Risk to pricing power in sanitary napkins due to competition and government regulations: So far, the sanitary napkin market in India has been dominated by the top 3 players viz Whisper (P&G), Stayfree (J&J) and Sofy (Unicharm). However, over the last few years, to tap the huge potential in this space, several new companies have entered the market and have achieved reasonable scale. Easing of barriers to entry around manufacturing (thanks to cheap Chinese machines), distribution (thanks to the growth of Modern Trade), brand, etc can attract more players further intensifying the competition. Given the huge under-penetration of sanitary napkins in India, there is also a potential risk of Government intervention through subsidized products or price controls to further improve the affordability and availability of sanitary napkins.
Inability to hire & retain professionals: Fourth generation promoter Sambhu Prasad Sivalenka is the key man at Amrutanjan responsible for major strategic and capital allocation decisions. As the business grows and expands outside its core areas, there is a need to strengthen the management team to avoid growth obstacles. Recent steps such as revamping of performance management systems, formulation of ESOP and hiring of senior employees in marketing and IT functions are steps in the right direction.