This month we place the spotlight on Mold-Tek Packaging, a leader in supply of injection-moulded rigid packaging in India across Paints, Lubricants and Food & FMCG industries. Mold-Tek commands one of the best operating performance track records in the packaging space with an average EBITDA margin of ~18% and pre-tax ROCE of ~20% over FY18-20. Mold-Tek's competitive advantages are centered around: (a) Continuing focus on innovation (plastic pails, pull up spouts, square shaped packs) which has helped it enter new segments and even grow market share in existing segments; (b) Backward integration capabilities (eg. in-house development of moulds, robots, labels, etc) led by its technocrat promoters; and (c) Customer stickiness surrounding quality, design, costs and development. These competitive advantages alongside a significantly healthier balance sheet vs peers put Mold-Tek in a strong position to further expand its market share and target new growth drivers within the packaging space.
Performance update of the live Little Champs Portfolio
At Marcellus, the key objective of our Little Champs Portfolio is to own a portfolio of about 15-20 sector leading franchises with a stellar track record of capital allocation, clean accounts & corporate governance and at the same time high growth potential. While we intend to fill our portfolio with winners, we want to be sure of staying away from dubious names where we are not convinced about the cleanliness of accounts or the integrity of the promoters (even though business potential may sound promising) as the fruits of company's performance may not get shared with minority shareholders. We intend to keep the portfolio churn low (not more than 25-30% per annum) to reap the benefits of compounding as well as minimize trading costs.
The Little Champs Portfolio went live on August 29, 2019. The performance so far is shown in the below table.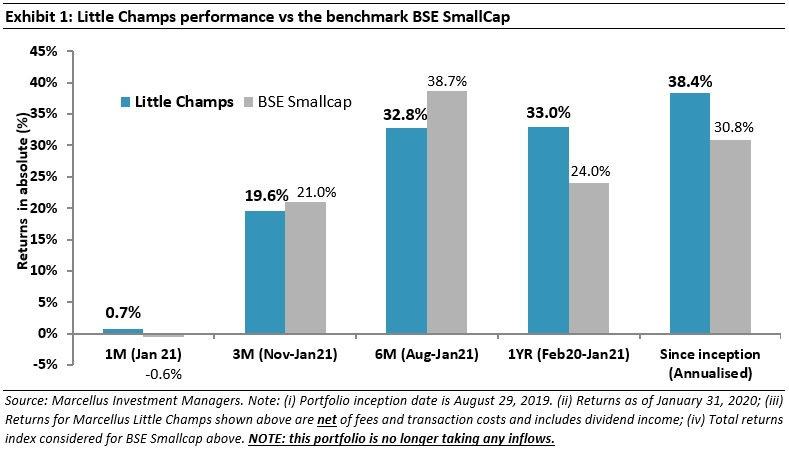 Portfolio updates – an addition and a deletion
Exit DCB Bank: We have completely exited from our DCB Bank position in our portfolio. The reasons for the exit are: (i) While DCB has historically been conservative in its underwriting, the impact of Covid-19 on DCB Bank has been higher than many other lenders due to DCB's focus on the SME/MSME segments; and (ii) the recovery for DCB will be more uncertain and will take longer than for the larger banks. This is because DCB's relatively smaller size and focus on the self-employed segment which limits the levers available to improve RoAs to pre-Covid levels and accelerate growth. The higher stress on DCB's balance sheet is evident from the high restructuring loan book along with collection efficiency trends reported in the Q3FY21 results. We therefore believe that unlike some of the other lenders which have frontloaded provisions, the impact of Covid on DCB's profitability will not be limited to FY21 only but continue to impact credit costs in FY22 as well.
Enter Aavas Financiers: We have added Aavas Financiers to our portfolio. Aavas Financiers is an affordable housing finance company which was incorporated as a subsidiary of AU Small Finance Bank in 2011. Currently, it is backed by two private equity players – Kedaara Capital and Partners Group and is led by Sushil Agarwal who was a part of AU's leadership team before Aavas was carved out as a separate entity. Aavas does granular, secured, small ticket size lending (Rs. 8 lacs avg. ticket size) in rural and semi-urban India with a focus on the self-employed segment. Similar to AU, Aavas has focused on in-house sourcing and collections with a high touch model which has led to significantly better asset quality compared to peers. Aavas has been able to sustain spreads of 5%+ along with stable asset quality because of its deep presence in semi urban and rural India along with its ability to lend to customers who have no formal income proofs. Aavas is well capitalized with a capital adequacy of ~50% and will be able to sustain a 20-25% loan growth without needing any further equity infusion for the next 4-5 years.
Stock in the Spotlight: Mold-Tek Packaging
As stated earlier, we will be communicating our detailed investment rationale on each of our portfolio stocks on a periodic basis. This month we detail our investment rationale for Mold-Tek Packaging. In the previous months we have written on: Garware Technical Fibres (August 2020), GMM Pfaudler (September 2020), V-Mart Retail (October 2020), Alkyl Amines (November 2020) and Suprajit Engineering (December 2020)
Company Background: Mold-Tek Packaging (Mold-Tek), founded in 1985 by technocrats Mr. Lakshmana Rao (the current Managing Director) and A Subramanyam (the current Deputy Managing Director) is a leading supplier of injection-moulded packaging solutions to Paints, Lubricants and Food & FMCG (F&F) industries. The Company commands a strong presence across all major customers like Asian Paints, Castrol, Shell, Mondelez, HUL, etc. Innovation has been a cornerstone of Mold-Tek's success over the years. Further, equipped with in-house mould designing capabilities, Mold-Tek pioneered the adoption of plastic pails for paints industry in early 1990s gradually replacing the then prevalent tin containers. In the late 1990s, Mold-Tek also introduced plastic pails with its patented innovative 'pull-up spout' with tamper & leak free features for the lubricants industry eventually garnering a dominant market share in this industry. In the recent years, the introduction of In-Mold labeling (IML) technology for Food & FMCG industry has been a major driver of revenue and profit growth for Mold-Tek.

Financial performance: Mold-Tek enjoys superior margins compared to its peers in the packaging industry due to the cost advantage emanating from backward integration. EBITDA per kg, a key indicator of the operational efficiency, has risen 20% over FY17 to FY20 due to the rising share of Food & FMCG (F&F) segment which enjoys higher margins than paints & lubes. As a result, the Company has maintained a healthy RoCE despite a failed foray in RAK (UAE) (brought upon by a misreading of the demand dynamics of the Middle Eastern markets and accentuated by weakening economic conditions). However, the company was quick to contain the damage by winding up the RAK facility within two years of its setting up and recouping a large part of the capital invested by shifting most of the machineries to its Indian facilities.

Key success factors for Mold-Tek
A. Innovation in packaging solutions
Innovation in product development has been a key success factor for Mold-Tek. Coming out with innovative value-added products at regular intervals has helped the company with new customer acquisitions and increase its share of business with the existing customers. Some examples of Mold-Tek's product innovations are:
Plastic pails for paint industry: In the early 1990s Mold-Tek pioneered the concept of plastic pails for paints industry. Over the years, plastic pails have replaced tin containers in most cases except for solvent based paints which continue to be sold in tin containers since solvents react with plastic.
Plastic containers with pull-up spout for lubes industry: After its success in paints, in the late 1990s Mold-Tek introduced plastic containers for lubes industry with value added features like 'pull-up spout' and tamper & leak free features. Mold-Tek was also granted a patent for the innovation related to pull-up spout with tamper proof seal. Over the years, plastic containers have replaced tin containers in lubes and has helped Mold-Tek garner a lion's share (>70%) with major lube companies.
In-Mold Labelling (IML): IML is the latest decoration technique in the Indian packaging industry though it is already well-penetrated in Europe & US markets over the last two decades. Mold-Tek has been a pioneer of this technology in India. The key advantages of IML over other techniques are: (a) Superior aesthetics and high durability, (b) Better hygiene due to minimal human contact – a major factor for Food & FMCG companies, (c) Elimination of labelling step and associated labour and space requirements. Due to these factors, IML is ideal for Food & FMCG industry.
Over the last few years, Mold-Tek has come up with various products like ice-cream containers, square shaped edible oil packs, ghee packs, cups, etc. which have found acceptance with major companies. Couple of examples worth highlighting here are:
Mold-Tek designed and developed the containers for Mondelez's Lickables product becoming its exclusive supplier in India; and
Mold-Tek designed and developed square-shaped packs with tamper proof features which is witnessing increased adoption with regional edible oil & dairy companies due to its tamper proof features (since adulteration & counterfeits is a major concern for these companies) and push from FSSAI (India's food standards regulator) for restricting reuse of tin containers to improve the hygiene standards.
Apart from above, the Company has indicated in recent results calls that there are multiple products under development such as QR code enabled IML containers (enabling tracking within supply chain), plastic containers for fertilizers & pesticide industry, tamper proof plastic containers for home delivery companies like Swiggy/Zomato etc.
B. Backward Integration
A major source of competitive advantage for Mold-Tek is its backward integration. Mold-Tek is possibly the only Indian packaging company to develop in-house moulds, robots, and labels whereas competitors mainly rely on imports. This capability gives Mold-Tek a significant cost advantage. For instance, Mold-Tek has developed close to sixty in-house robots at 60% cheaper cost vs the market price. Further, in-house mould making capabilities also help with faster product development and market introductions. These capabilities are of special importance in IML which requires a high degree of reliance on automation including robots. Whilst peers are still struggling to adopt IML technology, Mold-Tek is making incremental advancements in IML (QR coded, Square packs, Tamper proof packs, etc.) further widening its gap with peers.
Mold-Tek's backward integration capabilities is a result of the technical background of promoters, Mr. Lakshmana Rao, and Mr. A Subramanyam. Mr. Rao is civil engineer and MBA from IIM Bangalore and Mr. Subramanyam is mechanical engineer from Karnataka Regional Engineering College, Surathkal (now known as National Institute of Technology Karnataka or NITK Surathkal) and has completed a course on injection moulding and mould making from Central Institute of Plastics Engineering and Technology, Chennai. Mr. Subramanyam (Deputy MD) oversees the overall mould, robot and manufacturing activities of the Company.
C. Deep-rooted customer relationships
Mold-Tek has a proven track record of quality and reliability of supply which has helped it become one of preferred suppliers for leading companies in Paints, Lubes and Food & FMCG industries. Mold-Tek is amongst the few companies which has got a 'green channel clearance' from Asian Paints i.e., pails supplied by Mold-Tek go straight to the filling line without quality checks. Further, being the pioneers in IML is helping Mold-Tek get embedded in supply-chain ecosystem of major companies like HUL at an early stage of IML adoption in Food & FMCG. As adoption of IML increases, Mold-Tek stands to benefit.

Key risk: Ban on plastic packaging
The talk around a plastic ban in packing is getting louder by the day with many governments across the globe taking steps to ban some grades of plastic materials. At present, plastic below 50 microns is banned in India. However, Mold-Tek seems insulated against this threat due to:
Alternatives to plastic are equally harmful to environment or lack utility. For example, metal's carbon footprint is debatable plus it suffers with some deficiencies like reaction to moisture, prone to leakages, difficult to transport.
At present, containers below 50 microns are banned in India. Rigid containers made by Mold-Tek are at least 400-500microns which is far away from the present limit.
Rigid containers have higher recyclability. For recycling reverse supply chain to work, rag-pickers should have higher incentives. Higher micron has higher scrap value which acts as an incentive for the rag-pickers to collect the used container. Hence, containers made by Mold-Tek supports the economics of reverse supply chain of recycling.