This month we place the spotlight on another portfolio company, V-Mart Retail, the largest affordable fashion apparel retailer in tier 2, 3 and tier 4 cities of the north-eastern Hindi heartland. V-Mart commands one of the best RoCEs in Indian retail (pre-tax average RoCE of 28% over FY17-20) and has delivered net earnings CAGR of 22% over FY17-20. These robust fundamentals have been underpinned by its: (a) efficient supply chain management (automation of warehousing activities, own logistics and cluster-based expansion model); (b) merchandise selection & vendor management (investments in auto replenishment systems, vendor consolidation and extending support to vendors during a crisis); and (c) relentless focus on talent retention & training. These initiatives alongside V-Mart's strong balance sheet provide significant growth and market share gain opportunities for the company.
Performance update of the live Little Champs Portfolio
At Marcellus, the key objective of our Little Champs Portfolio is to own a portfolio of about 15-20 sector leading franchises with a stellar track record of capital allocation, clean accounts & corporate governance and at the same time high growth potential. While we intend to fill our portfolio with winners, we want to be sure of staying away from dubious names where we are not convinced about the cleanliness of accounts or the integrity of the promoters (even though business potential may sound promising) as the fruits of company's performance may not get shared with minority shareholders. We intend to keep the portfolio churn low (not more than 25-30% per annum) to reap the benefits of compounding as well as minimize trading costs.
The Little Champs Portfolio went live on August 29, 2019. The performance so far is shown in the below table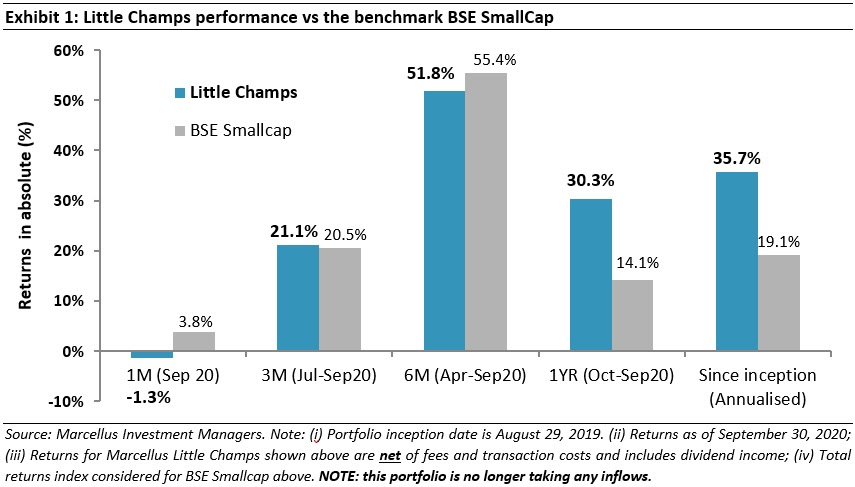 Stock in the Spotlight: V-Mart Retail
As stated earlier, we will be communicating our detailed investment rationale on each of our portfolio stocks on a periodic basis. This month we detail our investment rationale for V-Mart Retail.Company Background:
V-Mart retail was founded by Lalit Agarwal (the current Managing Director) in 2003, after he exited from his previous family venture, Vishal Mega Mart.  Around ~80% of V-Mart's revenues come from affordable fashion apparel which is sold at price points between Rs 80 and Rs 800 (Rs 330 being the average price point) and the balance ~20% revenues come from selling general merchandise like footwear and FMCG. Since 2009, the company has rapidly expanded its store network predominantly in the Hindi belt of Uttar Pradesh and Bihar. V-Mart's gets all its stores on lease and as of today operates ~265 stores of which, around two-thirds are located in the four states of Uttar Pradesh, Bihar, Jharkhand and Uttarakhand.

Key success factors for V-Mart
Supply chain management: The apparel retail market is characterized by high working capital and high fixed costs. Net working capital investment (i.e. inventory minus trade payables) for an apparel retailer is anywhere between 50-70% of their capital employed since retailers purchase large quantity of inventory in advance and sell it over a period of time. Also, retail businesses have high fixed costs with real estate rentals and employee salaries being the two largest cost items. Such high fixed costs do not allow high store level EBITDA without healthy footfalls. Hence, supply chain management becomes even more critical aspect of returns on capital employed (ROCEs) for a retailer. V-Mart has done a great job at supply chain management by heavily investing in technology to automate various aspects of supply chain. For example, V-Mart has automated inward, sorting and outward activities at its central warehouse. The firm has also followed a cluster based model (high concentration of stores in 100-150kms area) of store expansion which gives ability to service multiple stores at once and get better understanding of customers in the zone. The firm has invested in building its own fleet of trucks, which gives it better control over logistics and freedom to plan better routes. V-Mart has also used technology to make merchandise selection intelligent (explained more in the next bullet point).

Merchandise selection and vendor management: V-Mart has extensively used technology to become more process oriented and intelligent at merchandise selection & replenishment. For instance, V-Mart has invested in analytics from an early stage which has helped it to get better at forecasting its merchandise sales for different SKUs at different locations and at different points of time. These insights have been used to implement an Auto Replenishment System to refill stores. ARS tend to get better as more data is captured and over time this creates a virtuous cycle.These investments have resulted in multiple benefits: a) avoiding loss of sales due to stock outs; and b) improve inventory turns by not keeping too much of inappropriate merchandise lying on the shelves. At the same time, share of private label to total sales has increased from 20% of revenue in 2017 to 65-70% of revenue in 2020 which gives better control over merchandise designing and helps generate higher gross margins.

Ensuring lean inventory at all levels and all the time also requires a high level of co-ordination across vendors. V-Mart rolled out a centralised vendor portal 4-5 year ago where both the parties can monitor stocks levels, expected replenishment date and replenishment rates on a real time basis to improve operational planning. V-Mart has also done a great job at strengthening vendor relationships by: a) consolidating its vendor base from over 1500 to over 600 over last 7-10 years thereby increasing volumes for existing vendors; and b) making faster & timely payments in lieu of discounts. Even during the ongoing COVID-19 crisis, V-Mart has made quicker than normal payments to its vendors and has also helped them get low cost borrowings from lenders.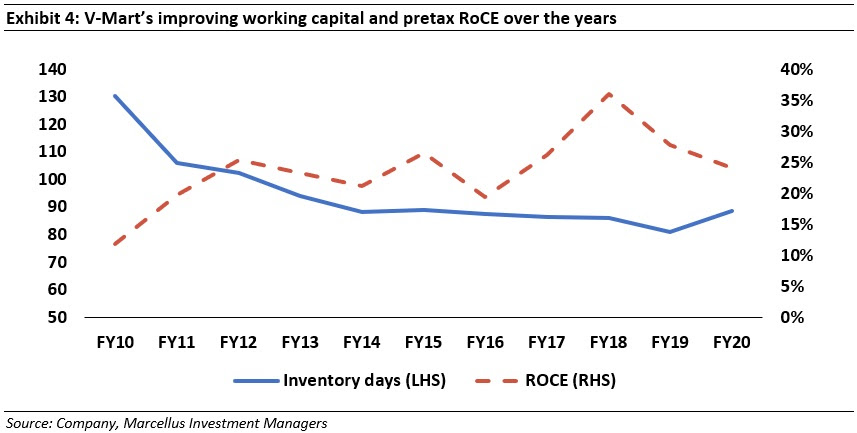 Talent retention and training: Retail industry is characterised by high attrition rate at the front end and hence lack of trained talent at the shopfloor. Hence, when customers walk into the store, they either meet with demotivated staff or someone who is not trained enough to help the customer with specs of the product, availability of the range of merchandise etc. V-Mart overcomes this challenge by: a) empowering and incentivising store managers and other store level staff to keep them motivated; b) making use of mobile based applications which are used by top management to engage with all ~7500+ employees of V-Mart directly; and c) use of technology to provide training to all front end employees digitally.

Business updates related to Covid-19

As of today, 90-95% stores are open, and footfalls have reached about 50% of last year's levels. In the near-term future, the positives are that rural consumption is likely to be strong because of increase in farm incomes, government schemes to support rural economy and better prosects due to broad based monsoon. V-Mart has high presence in areas where local economies have high dependence on farm incomes. But the negatives are that as the disease spreads to smaller towns of North India, there could be more lockdowns and extended periods of low footfalls. V-Mart has a healthy balance sheet with a net debt to equity of 0.04x as of 30th June 2020 and unutilized working capital of ~Rs 230crores to overcome these short-term challenges. Recently the board of directors have given an approval for capital raise up to ~Rs 500 crores (around 15% of the firm's current market cap) to fund store expansion opportunities or tech investments, in case internal accruals are not strong enough in FY21 to provide for the same.

From a longer-term perspective, we believe V-Mart has a long growth runway thanks to:
Consolidation of market share: As weaker competitors face greater balance sheet challenges, some real estate occupied by such retailers might become available for V-Mart to expand its store network organically in better store locations than what would have otherwise been available. There is also likely to be a massive opportunity to gain market share organically from competitors who might not have enough strength on their balance sheet to fund business expansion plans.
Investments in strengthening vendor relationships: V-Mart is using its balance sheet strength to further reinforce their relationship with vendors by arranging low cost financing for its vendor base (wherever the vendor's cost of funds is much higher than V-Mart's). This initiative will pay-off in the long run when demand gets back to normal as vendors will be able to ramp up production and prioritize V-Mart over others.
Investments in technology and omni-channel capabilities: V-Mart is continuing to investment in technology to improve its supply chain management even during the crisis. It has recently invested in a new Transport Management System at its warehouse which provides real time visibility over its own fleet in the supply chain. It has also continued to invest in building omni-channel capabilities and training store managers to operate such new technology, which might see better adoption by consumers in the aftermath of COVID-19.