At Marcellus we use our proprietary Longevity Framework to rank companies on the quantitative and qualitative aspects surrounding the longevity of their free cash flows. This framework is not only used for initial stock selection but also as a tool to continuously evaluate the portfolio companies to detect any signs of lethargy (or loss of focus) on critical business and HR aspects. Review of the annual reports of the portfolio companies through the prism of the Longevity Framework is a key part of our ongoing analysis. In this month's newsletter, we evaluate the Little Champs companies on 'lethargy' using their FY21 annual reports.
Performance update for the Little Champs Portfolio
At Marcellus, the key objective of our Little Champs Portfolio is to own a portfolio of about 15-20 sector leading franchises with a stellar track record of capital allocation, clean accounts & corporate governance and at the same time high growth potential. While we intend to fill our portfolio with winners, we want to be sure of staying away from dubious names where we are not convinced about the cleanliness of accounts or the integrity of the promoters (even though the business potential may sound promising) as the fruits of company's performance may not get shared with minority shareholders. We intend to keep the portfolio churn low (not more than 25-30% per annum) to reap the benefits of compounding as well as minimize trading costs. The Little Champs Portfolio went live on August 29, 2019. The performance so far is shown in the below table. 
Exhibit 1: Little Champs performance vs the benchmark BSE SmallCap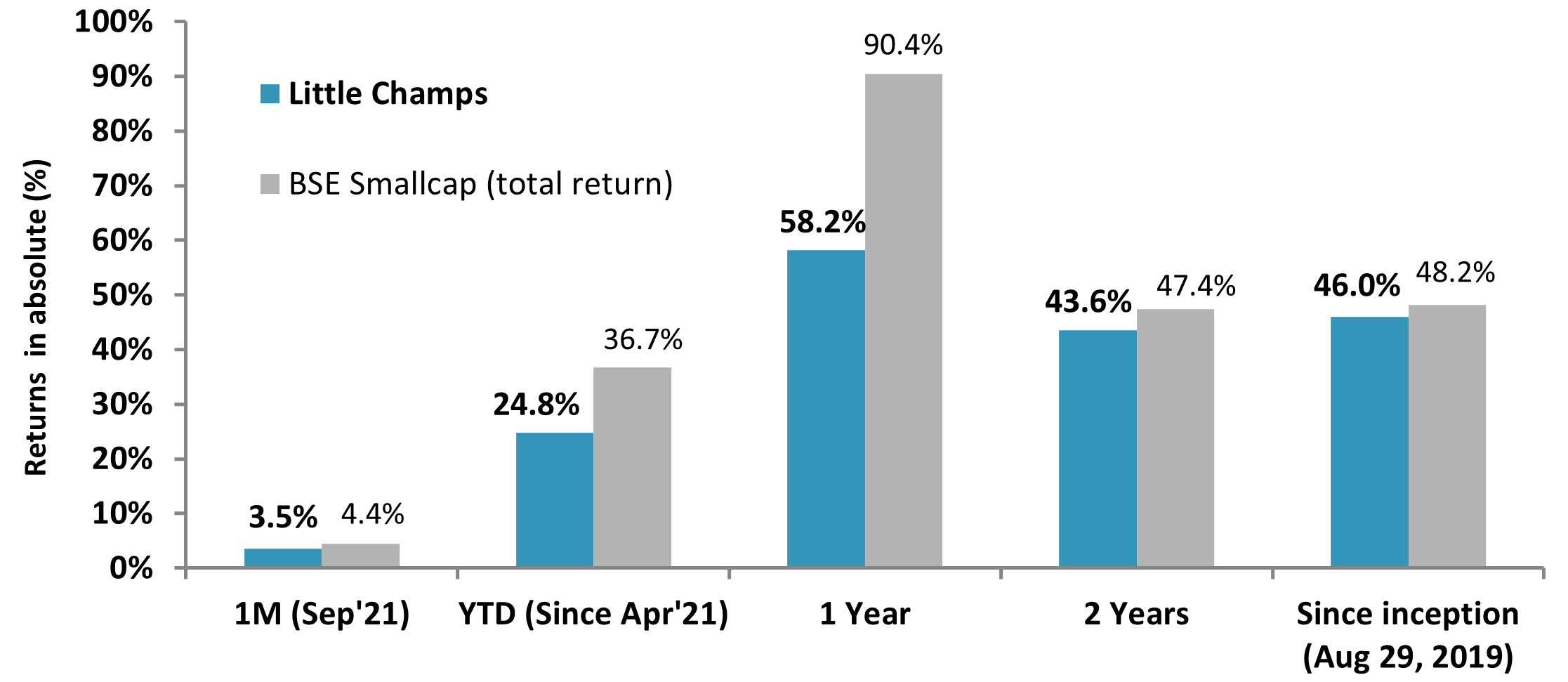 Source: Marcellus Investment Managers. Note: (i) Portfolio inception date is August 29, 2019. (ii) Returns as of September 30, 2021; (iii) Returns for Marcellus Little Champs shown above are net of fees and transaction costs and includes dividend income; (iv) Total returns index considered for BSE Smallcap above. NOTE: this portfolio is no longer taking any inflows.
Evaluating Little Champs on 'Lethargy framework' basis FY21 annual reports
In our September 2021 newsletter, we highlighted that when compared to the broader small caps, Little Champs have historically exhibited significantly lower volatility in earnings whilst delivering significantly healthier earnings growth. This is especially true in recent years where macro-economic challenges have impacted the earnings growth across the broader corporate landscape even as the Little Champs have delivered healthy growth in earnings.
One of the important drivers of the superior and stable fundamental performance of Little Champs is their high capital reinvestment initiatives to either strengthen the existing business (and thus gain market share) and/or add new growth drivers. For instance, the weighted average reinvestment rate for FY21 for the Little Champs portfolio continued to be very healthy at 49% (FY16-20 figure: 56%) despite: i) the lockdown in operations during a significant part of the year (particularly in 1QFY21), and (ii) the strong operating cash generation of FY21 (described in our June 2021 newsletter) which optically suppress the reinvestment rate. In fact, the Little Champs are a rare set of small cap companies which have been able to sustain high reinvestment rates while maintaining healthy RoCEs over long periods of time.
Besides the above quantitative inputs surrounding reinvestment rates, at Marcellus we have developed a proprietary longevity assessment process which looks at broader quantitative and qualitative aspects surrounding the longevity of a company's free cash flows. In the Marcellus Consistent Compounders' August 2021 newsletter we explained that the two important tools of the longevity assessment include the lethargy and succession planning frameworks. The lethargy framework analyses capital reinvestment initiatives being undertaken at periodic intervals by the firm to deepen its existing competitive advantages, add new revenue growth drivers and radically disrupt its own industry. The succession planning framework tracks softer aspects such as institutionalization of the business at different levels i.e. decentralization of decision making amongst members of the Board, CXOs, as well as ground level execution through systems and processes.
Exhibit 2: Marcellus' Longevity Framework for stock selection and position sizing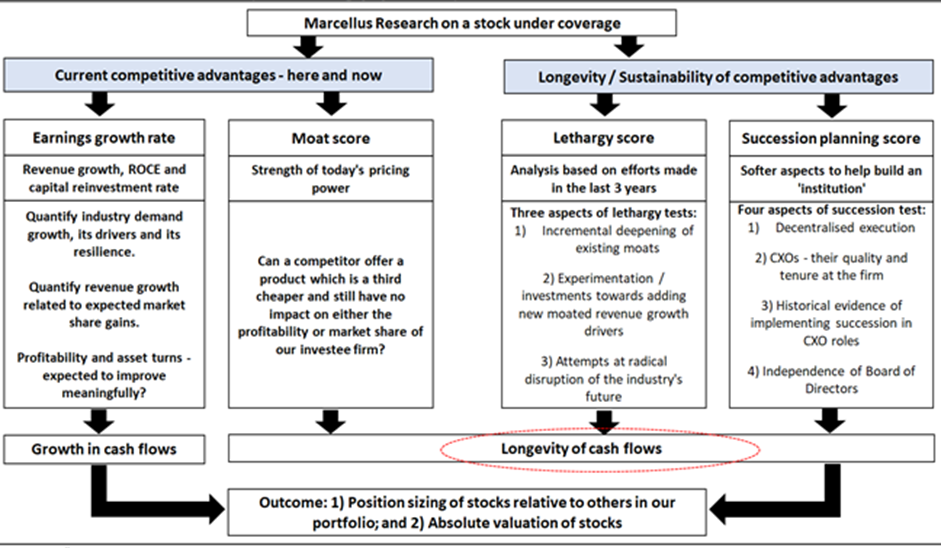 Source: Marcellus Investment Managers
The Annual Report is one of the important sources of quantitative and qualitative data for our lethargy and succession planning frameworks in addition to a host of other sources like primary data interactions, management meetings, conference call transcripts, etc. The Little Champs have historically scored much better than their small caps peers on our lethargy and succession frameworks (in part, that's why they made it to the portfolio). However, the Longevity Framework is not only a tool for initial stock selection but also a tool to continuously evaluate the portfolio companies to detect any signs of lethargy (or loss of focus) on critical business and HR aspects. The review of the annual reports of the portfolio companies is a step in this direction. In this month's newsletter, we evaluate the Little Champs companies on lethargy related initiatives from their FY21 annual reports. We will cover succession planning in a subsequent newsletter. The key lethargy related initiatives from the FY21 annual reports are shown in the table below:
Exhibit 3: Key 'lethargy' related initiatives from FY21 Annual reports
Company

Annual report commentaries

Garware Technical

§ 

During FY21, the company filed 23 patents, and 8 patents were granted;

§  Garware has emerged as a major supplier of cages to Nordlak's gigantic, moored fish-farm platform called Havfarm in Norway through its innovative V2 netting solutions;

§  GARMAT, a versatile, high-performance erosion-control solution developed by the company's Geosynthetics Division has been chosen for the Western Dedicated Freight Corridor (WDFC);

§  Garware's geosynthetics solutions are finding increasing acceptance in Europe as well. In FY21, company's Flexible Rope Net (FRN) Gabions were chosen for a major port project in Poland to prevent erosion of the seabed.
GMM Pfaudler

§ 

In addition to glass-lined equipment (GLE) business, the Pfaudler Global acquisition brings GLE tech in probes and sensors, in mixing, in storage, in heat exchangers, etc. It also brings a tech base in alloys;

§  Acquired HDO Technologies Ltd. to enhance the Heavy Engineering vertical;

§  Acquired De Dietrich manufacturing facility at Hyderabad which gives a manufacturing footprint in South India;

§  Added new gas furnaces in Karamsad to increase production (increased from 230 to 250 EUs);

§  Site modernization at Italy, Germany and China completed;

§  Operational excellence: improving throughput across sites – taking GMM lean manufacturing model to other facilities.
Alkyl Amines Chemicals

§ 

Process is implemented at the plant for one of the existing products to reduce cost and improve the quality;

§  Processes developed for two new products which are are expected to get commercialised in FY22;

§  The Board has approved an investment of Rs350 crores for increasing capacity of Aliphatic Amines (Ethylamines) at Kurkumbh and Patalganga sites in Maharashtra. Capacity will be added in next 15 to 18 months;

§  During FY21, company enhanced production capacity of Methylamines at Dahej and capacities of DMAHCL powder plant and Hydrogenation plant at Kurkumbh;

§  A new Acetonitrile project is under execution at Dahej and will commence production in Q3FY22.
Ultramarine & Pigments

§ 

To improve yield of high-value grades of pigments the company is investing in R&D in all stages of the production process, from raw material procurement and processing to final stages of value addition;

§  The Pigments plants currently processes 30% more of high-value grades than last year (by volume) and 150% more than FY17, entirely due to internal innovation;

§  Commissioned a new surfactants plant at Naidupeta on 8th January, 2021 (first plant outside Tamil Nadu) capable of producing multiple sulphonated products, with a quick turnaround;

§  A new green field project is being set up to manufacture premium grade pigments through a 100% subsidiary. This facility will manufacture fine grade pigments, reduce the division's operation cycle and contribute to a better profit margin.
Galaxy Surfactants

§ 

The company launched four new products during the year which are nature derived, are paraben and sulphate free with patented Green technology;

§  Undertaken expansion of its Research & Development Centre at TTC which is expected to significantly enhance the R&D capabilities of the Company;

§  In FY 2020-21, a total 6 patents were granted to Galaxy, of which 3 were granted in US, 1 each in India, China and Europe;

§  The company has applied for an aggregate of 13 patents globally.
Mold-Tek Packaging

§ 

Started commercial production & supplies of pumps with focus on sanitisers, lotion, soap segments;

§  The company has successfully developed QR coded IML packaging with complete traceability all across the supply chain;

§  Entered into pharma & cosmetics packaging through injection blow moulding (IBM) technology;

§  Company has launched a range of products for sweets, confectionery and online food delivery;

§  Setting up a new plant in Uttar Pradesh to cater the needs of all North region clients;

§  Gradually added capacities in the Satara, Mysore, Vizag & Hyderabad plants in the last 10 months;

§  Doubled the IML label production capacity.

Amrutanjan Health Care

§ 

Launched Pain Patch – an innovative product;

§  Tech investments: (i) Sales Force Automation, Distributor Management System, HRMS, Data analytics; (ii) Upgrading to SAP;

§  Distribution expansion supported by marketing activities: (i) Increased direct distribution; (ii) Expansion in distribution of Comfy – added 30k outlets + entry in D-mart, RIL as well as e-commerce along with lot of on ground marketing in TN, AP and UP; (iii) Special focus to strengthen presence in metros.
Fine Organic Industries

§ 

Manufacturing capacity of the company almost doubled in the 3 years. Up to FY18, company was operating with 3 plants with the total capacity of 64,300 TPA. Currently, the total capacity of the plant would be around 120,000/130,000 TPA;

§  Operationalised the first phase of Patalganga plant;

§  On May 6, 2021, the company has executed a Joint Venture Agreement with Oleofine Organics Thailand Co., Ltd. and Oleofine Organics Sdn Bhd. for the purpose of carrying on the business of manufacturing of Speciality Chemical products and supplying, exporting and distribution of such products.

Suprajit Engineering

§ 

Expanded product portfolio in digital speedometers, won few contracts in non-auto, EV and 2W OEMs;

§  EV portfolio of Cables, 3W gear shift mechanism, Combination Braking and Brake Shoes, Instrument Clusters and Retrofittable – LED unveiled last year gained traction;

§  Added new products in Halogen series and enhanced product portfolio;

§  Capacity expansions at Narsapura for cables and Noida for bulbs;

§  New plant at Doddaballapur for cable exports is fully operational;

§  Committed a capex on completely automated HS1 Line to increase Halogen bulbs capacity.

Lumax Industries

§ 

In the process of opening its R&D Centre in Czech Republic to have international technical competence and enhance the skills of the local staff with exposure to new futuristic technologies;

§  Further strengthened relationship with Co-promoter and technology partner Stanley through new product line Heater Control Panel (market size of Rs600 crs);

§  Backward integration into Printed Circuit board (a key component of LED lighting) through commissioning of new greenfield facility at Bawal (Haryana);

§  Linking of Moulding machines with SAP and now there is both way communication from SAP to Moulding machines undertaken as a pilot project in Bengaluru plant and plans are to roll out to other plants.
V-Mart Retail

§ 

Opened new store formats like (i) Fashion Dial-up – focussed on young consumers with a trendy fashion focussed store ambience & merchandise; and (ii) Value dial-up – centered on rural consumer residing or frequently visiting tier 3/4 towns offering basic and core fashion merchandise;

§  Store layout, ambience, in-store display, focal point was redesigned to attract customers and improve experience;

§  IT initiatives: (i) Roll out of omni-channel platform, improvements in website & mobile apps. (ii) Introduced a new vendor portal which enhances the interface to improve ease of procurement and vendor data management; (iii) Enhancement of INFOR for leaner warehouse and implementation of Transport Management System to track logistics; and (iv) Enhancement in analytics tool to support CRM, new store opening, demand forecasting, supply chain.

La Opala

§ 

Company is strengthening its sales & distribution. It has recently made some senior recruits in key positions.

§  Company is process of expanding its opalware manufacturing capacity by ~50% from ~20,000MTPA to ~30,000MTPA maintaining its lead over its peers.

§  Plans on launching two more branded lines in FY22.

Aavas Financiers

§ 

Added 30 new branches during the year, with total branches being 280 as of FY21 and expanded the operations to 11 States; 

§  Increased instances where turnaround time was 10 days or lower: from 54.6% in FY 2019-20 to 58.4% in FY 2020-21;

§  The company introduced Application Scorecard to evaluate risk profiles; its streamlined approval process minimized errors;

§  The Aavas Nirman app helped the Company's feet-on-street teams in managing activities seamlessly and enhancing productivity.

MAS Financial

§ 

MAS is utilising its sourcing and underwriting skills to enter into co-lending arrangements with other players: (i) partnered with CredAvenue for a Co-Lending Platform; (ii) entered into a co-lending partnership with Bank of India for lending to MSMEs;

§  Also trying out a certain type of personal loans as a pilot project;

§  Expanding its loan book outside Gujarat – MAS is predominantly in Gujarat, but also has presence in four other states that are Gujarat, Rajasthan, Maharashtra and MP, and some presence in Tamil Nadu and Karnataka also.
Source: Marcellus Investment Managers.
Basis our reading of the Little Champs portfolio companies' annual reports and basis our ongoing discussions with management, suppliers, distributors and competitors of these firms, we find that our investee companies have continued to do well on the lethargy aspects of the business. Specifically, inspite of the impact of Covid-19, these companies continue to make investments into new products, capacity building, improving manufacturing efficiencies and investments into technology.
Two companies that have particularly impressed on the Lethargy front are: 
§ GMM Pfaudler:
a)     Deepening of the existing moats: Acquisition of Pfaudler's global business have helped secure the long-term technology for GMM and in turn strengthen the competitive advantage of the Company. In addition to glass-lined equipment (GLE) business, the Pfaudler Global acquisition also brings GLE technology in probes and sensors, in mixing, in storage, in heat exchangers, etc. It also brings a tech base in alloys.
b)    Addition of new growth drivers: Pfaudler Global acquisition has increased the addressable market for GMM significantly (from India to the world). Furthermore, acquisition of erstwhile Indian competitor De-Dietrich Process Systems (India) Pvt Ltd. may help boost market share with customers based in South India. Furthermore, acquisition of HDO Technologies Ltd. Is likely to provide additional growth drivers in the Heavy Engineering vertical.
§ Mold-Tek Packaging:
a)       Deepening of the existing moats: The Company continues to invest in its backward integration capabilities (in-house tool rooms for moulds, IML robots and labels). The Company continues to stay ahead of the competition through product innovation like QR coded IML packaging.
b)     Addition of new growth drivers: The Company continues to add additional growth layers through entry into pumps segments (sanitisers, lotion, soaps). Mold-Tek has recently entered into pharma & cosmetics packaging through injection blow moulding (IBM) technology.
Higher scores on the Lethargy front help these companies get higher overall scores in our Longevity Framework. That in turn results in a larger position size in our Little Champs portfolio.
If you want to read our other published material, please visit https://marcellus.in/
Copyright © 2021 Marcellus Investment Managers Pvt Ltd, All rights reserved