This week we celebrate a triple triumph – Mumbai's quiet victory against the ravages of Covid-19, Marcellus' second birthday and the publication of "The Victory Project: Six Steps to Peak Potential".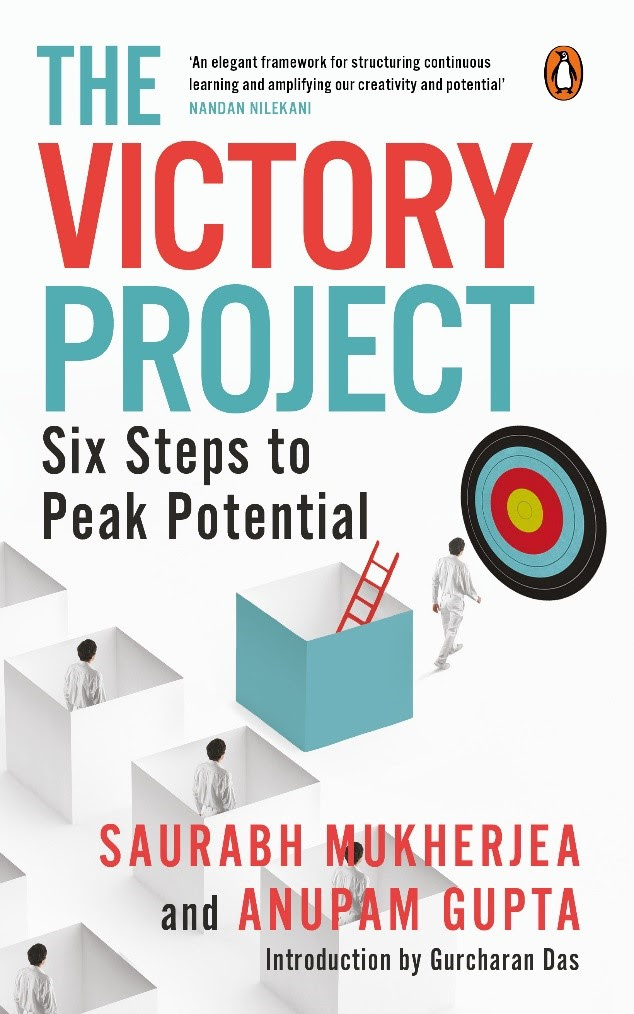 A Triple Triumph
"The Victory Project", co-authored by yours truly with his friend Anupam Gupta, was originally slated for release in the Spring of 2020. But then the world entered the Covid-19 induced lockdown and the publisher, Penguin, decide to hold back the book for a happier day. As it happens, the publication of the book in mid-August 2020 coincides with Marcellus Investment Managers' second birthday (the Ministry of Corporate Affairs granted us incorporation on 8th August 2018). Furthermore, these two events happen to coincide with Unlock 3.0 and with Mumbai's quiet triumph against the ravages of Covid-19.
This convergence of triumphs is obviously fortuitous but not entirely accidental. At Marcellus, we have battled hard through Covid-19 not only to keep the firm open for "business as usual" but also to increase our headcount by a third and to almost double the assets under our care whilst our personal lives were turned upside down by the virus. Several of us in the firm lost relatives and friends through the lockdown but we kept pushing each other through April, May and June to keep the firm growing at an accelerated pace.
When staff who were supposed to join our Operations team in March backed out – terrified by the spread of the virus – we used social media to step up our recruitment efforts. An erstwhile colleague, who used to look after HR for us in my previous avatar, reached out to help with recruitment. When communicating with a burgeoning client base (now 3,000 strong) became increasingly difficult through March-April, a friend of the firm stepped into offer us his webinar platform. Our office landlord stepped in to help out as well. So did our largest custodian. Net net, we are emerging from Covid-19 into the gaze of a watery monsoon sun, stronger rather than weaker, better rather than bitter.
In parallel, Mumbai's doctors and health authorities, waged an even more spirited campaign against Covid. We highlighted this in our 28th June "3 Longs & 3 Shorts". One of the many tragic aspects of the hysteria around Covid back in March 2020 was the enthusiasm with which self-proclaimed Covid experts around the world and the international media forecasted that poor & populous India would be hammered by Covid. Then as India's Covid deaths remained mercifully low, the new view that was that India underreports Covid deaths. Otherwise, incredulous Covid-gurus wondered, how could it be that a country with 1.4 billion has only 13,000 Covid deaths. It took the Indian Express to reveal to the world how Mumbai's health authorities successfully battled Covid:
"Dharavi, the 2.4-square kilometer slum sprawl, which had emerged as a Covid-19 hot spot in Mumbai by mid-April, and had the Brihanmumbai Municipal Corporation (BMC) deeply worried, has witnessed a steady decline in the number of new cases in June. On June 19, addition to cases was in single digit for the first time since the area reported its first case on April 1…The drop in new cases in Dharavi is characterized by a steep fall in the doubling time of 18 days in the last week of April to 78 days as of June 19." (Source: To find out read our 28th June "3 Longs & 3 Shorts"
So how did Dharavi get a grip on Covid? After all, back in April, "Controlling the spread of infection in an area, where 9-10 people stay in a 10×10 sq ft room, was seen as almost impossible." Our chats with Marcellus' client who are running hospitals in different parts of India suggest that three important things have helped bring the situation under control:
Because testing has become widespread, cases are being detected early and treated early. As a result, fewer serious cases are reaching the hospital. In turn, the overload in hospitals has reduced significantly. In the "jumbo" centres, the less serious cases are treated and treatment protocols for this are now well laid out.
In the hospitals, the treatment protocols have become streamlined with relevant medicines and ventilators being available with good supply. As a result, the death rate in hospitals has come down sharply.
The serological data shows that a lot of people in Mumbai have already built immunity against Covid thanks to antibodies in their body. Thanks to that plus thanks to mask wearing, the spread of the infection has reduced [Click here].
"The Victory Project" is culmination of two years of research by Anupam Gupta & myself on the drivers of outsized professional success alongside personal fulfilment in professions as diverse as music, cinema, literature, psychology, manufacturing, investing and martial arts. For those of you who are tired of reading books on investing, we have good news. Two-thirds of the Victory Project has nothing to do with Finance & Investing. In the first three sections of the book we detail out The Simplicity Paradigm – our six-part framework for achieving peak potential. The first layer of the paradigm is specialisation, simplification & spirituality. The second layer of the paradigm is clutter reduction, creativity, and collaboration. Each of these six steps is brought to life using case studies which have nothing to do with finance & investing.
It is only in the final section of the book where we have to illustrate the Simplicity Paradigm at work that we focus on finance & investing case studies of great companies like TCS and Amul and great investors like John Bogle and Rob Kirby. But even here we use case studies of great music directors like RD Burman and AR Rahman to highlight the relevance of the Simplicity Paradigm to professionals in every walk of life. Furthermore, throughout the book we track the evolution of two characters – Akanksha (a Senior VP in an MNC company) and Suraj (a rookie investment banking associate) – whose lives have mirrored our own and whose adoption of the Simplicity Paradigm provides a narrative that any one from any profession can identify with.
To watch our TEDx talk on the book, click here
To order the book, click here
Thank you very much for being a friend and/or a client of Marcellus over the past couple of years. You stood by us when we needed you the most and for that we will forever be grateful.
Saurabh Mukherjea is the Founder and CIO of Marcellus Investment Managers