This month we place the spotlight on Vijaya Diagnostic Centre Limited (Vijaya), a leading diagnostic player in Andhra Pradesh and Telangana, and one of the few organised players to offer an integrated offering of pathology (2/3rd revenue contribution) and radiology (1/3rd share of revenues). Vijaya has consistently outperformed its integrated diagnostic peers (FY18-22 average EBITDA margin nearly 2x the peers' median and significantly superior returns on capital employed (37% average over FY18-22 vs peers' 14%). The key success factors for Vijaya have been strong brand and architecture built around its radiology business (promoter goodwill; strong doctor connect enabled by high case volumes & a knowledge-based work culture; and investment in best-in-class latest radiology equipment). Low technology orientation, a lack of depth in middle management and uncertainty surrounding the impact of artificial intelligence are the key risks.
Performance update for the Little Champs Portfolio
The Little Champs Portfolio went live on August 29, 2019. The performance so far is shown in the below table.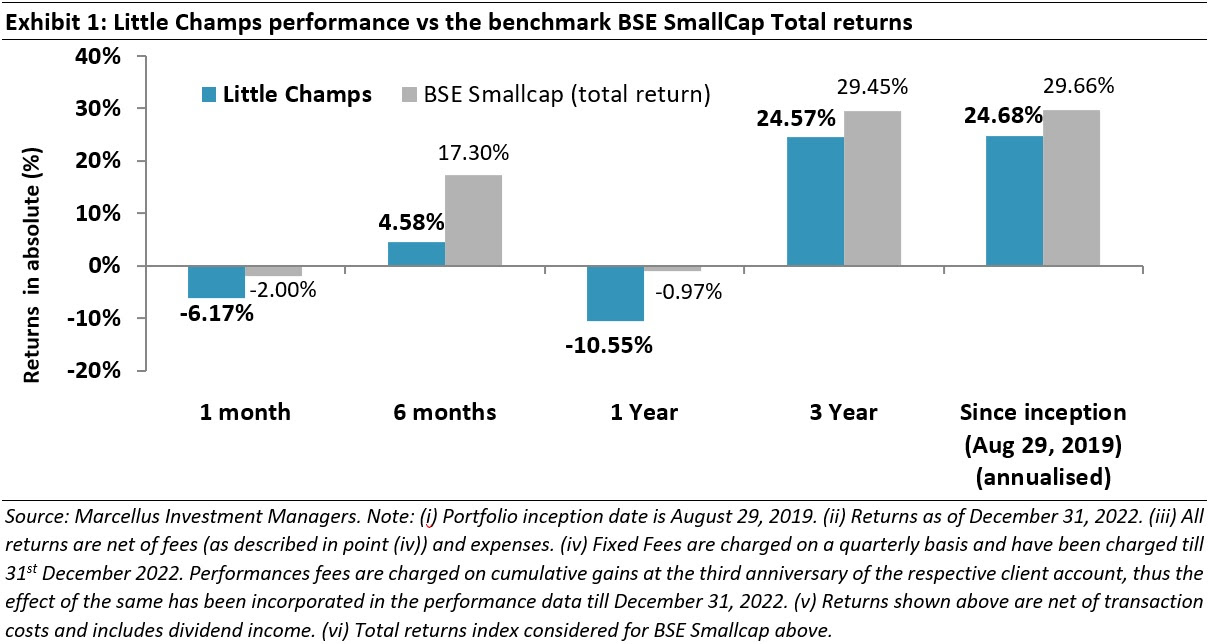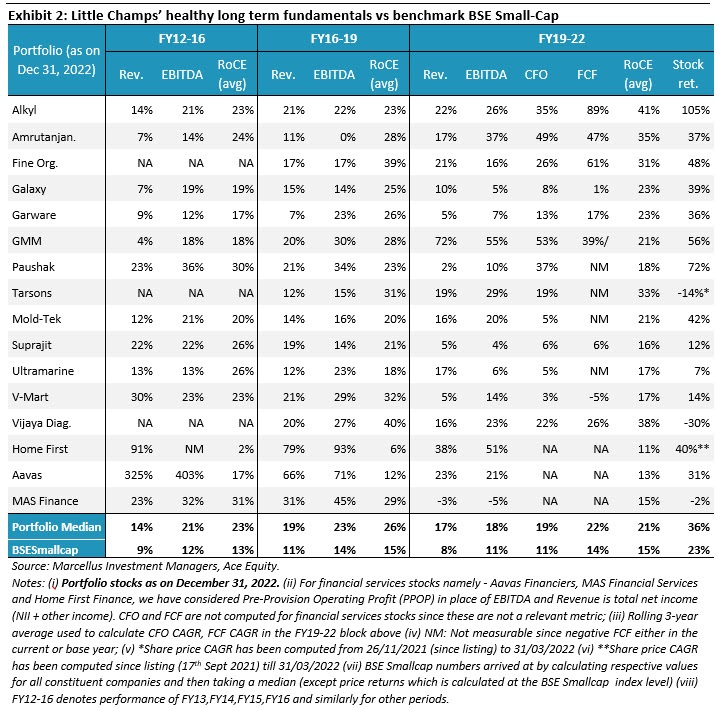 Stock in the Spotlight: Vijaya Diagnostic Centre
At Marcellus, the key objective of our Little Champs PMS is to own a portfolio of about 15-20 sector leading franchises with a track record of prudent capital allocation, clean accounts & corporate governance and at the same time healthy growth potential. While we intend to fill our portfolio with companies having the above attributes, we want to stay away from names where we are not convinced about the cleanliness of accounts or the integrity of the promoters (even though the business potential may sound promising) as the fruits of company's performance may not get shared with minority shareholders. We intend to keep the portfolio churn low (not more than 25-30% per annum) to reap the benefits of compounding as well as minimize trading costs.
This month we detail our investment rationale for Vijaya Diagnostic Centre Limited, a relatively recent entrant in the Little Champs portfolio. In the previous months we have written on: Garware Technical Fibres (August 2020), GMM Pfaudler (September 2020), V-Mart Retail (October 2020), Alkyl Amines (November 2020), Suprajit Engineering (December 2020), Mold-Tek Packaging (February 2021), Amrutanjan (April 2021), Fine Organics (May 2021), Galaxy Surfactants (December 2021), Ultramarine & Pigments (February 2022) and Tarsons Products (April 2022).
Company background
Founded in 1981 by Dr. S. Surendranath Reddy, Vijaya Diagnostic Centre ('Vijaya') is a leading diagnostics player in Andhra Pradesh and Telangana and one of the few organised players to offer an integrated offering of pathology (2/3rd revenue contribution) and radiology (1/3rd share of revenues). Over the last four decades, Vijaya has expanded to around 113 centres primarily in Andhra Pradesh and Telangana. These two states account for over ~95% of its revenue with over ~80% coming from Hyderabad itself. It is estimated that Vijaya has a ~7-8% market share in the states of Andhra Pradesh and Telangana.
Like most organised players in the industry, Vijaya too follows a 'hub & spoke' model of expansion, with only differences being that: (a) its spokes are owned by the company (rather than by franchisees); and (b) Vijaya offers basic radiology services such as x-ray, ECG, Ultrasound, etc. along with acting as a collection centre for pathology tests. Vijaya's 'Hubs' are typically 10 times larger than its spokes and offer advanced radiology tests like MRI, CT-Scan, etc along with acting as collection centres and processing labs for pathology. Vijaya's flagship centre at Himayatnagar in Hyderabad offers all high-end radiology & pathology tests and accounts for ~15% of Vijaya's total business.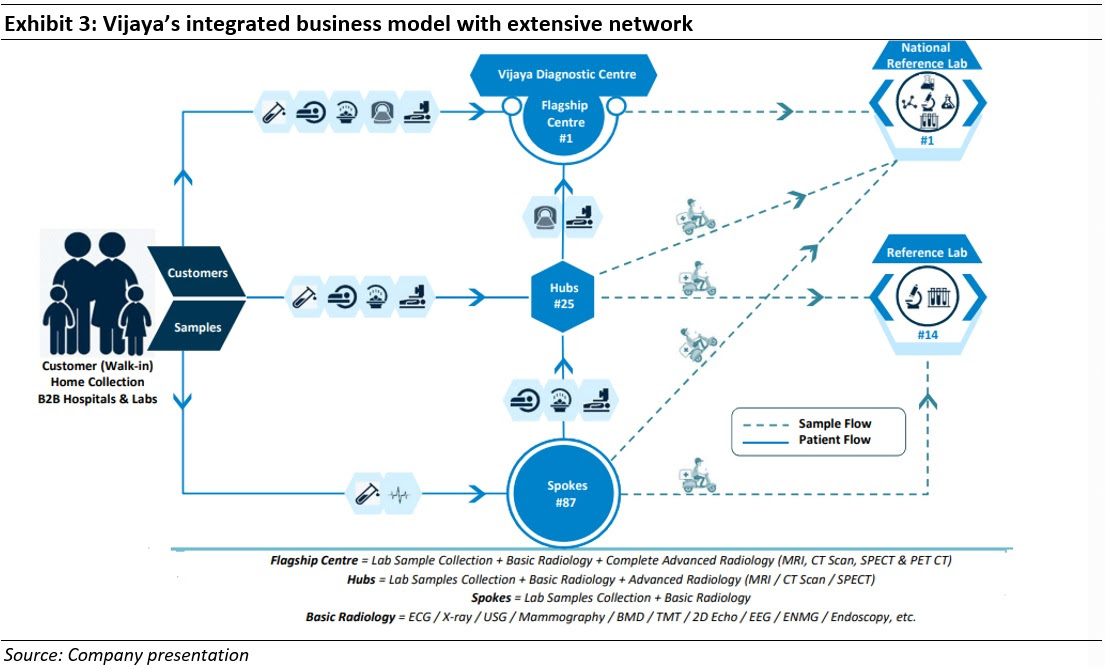 Track record of healthy fundamentals
Over the last seven years, Vijaya's revenues and EBITDA have witnessed CAGR of 19% and 25% respectively. Before Covid-19, over FY15-20, Vijaya's revenue and EBITDA has grown at a healthy pace of ~19% CAGR and ~25% CAGR respectively led by centre additions in Hyderabad and margin expansion coming from scale related operating leverage benefits. Over the last two years, while the non-Covid revenues witnessed a muted trajectory, additional revenue coming from Covid-19 related testing has helped Vijaya maintain its overall growth momentum in revenues and EBITDA. Furthermore, high operating margins have more than made up for low gross block turnover (due to all the centres being owned by the Company) resulting in consistent and healthy return ratios for the Company.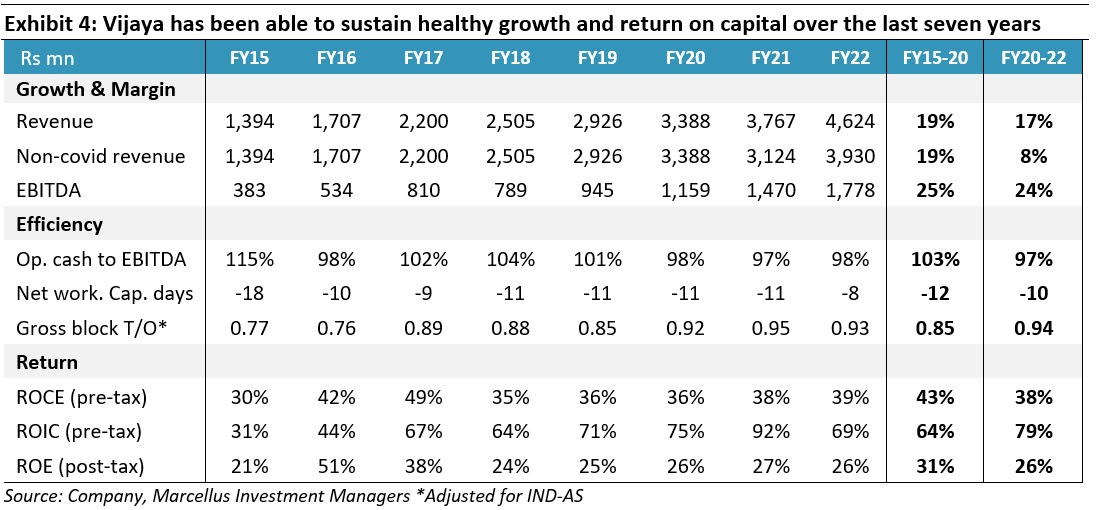 Our investment thesis for Vijaya
a. Customer convenience offered by integrated nature of business: An Integrated business model of radiology and pathology offers more convenience to patients as Vijaya's centre acts as a one-stop solution. Our interactions with industry experts suggest that anywhere between ~15-20% of all prescriptions generated by doctors has a radiology component along with pathology. These are typically prescribed by specialists such as gynaecologists, cardiologists, etc who are more frequent users of radiology reports than physicians. Moreover, a dense network of around 86 centres in the city of Hyderabad also makes Vijaya the lab of choice for companies looking for corporate tie-ups (as most health check-ups involve a combination of radiology & pathology tests and Vijaya is well placed to provide both) as well as helps distribute patient load across multiple centres in the city. Vijaya has tie-ups with some 200 odd corporates in Hyderabad including some large private and public sector firms
b. Architecture around technical capabilities to offer radiology – the 'most difficult to replicate and scale' part of the diagnostics industry: The key differentiator for Vijaya is the high quality, experienced & specialised radiologists it has on its payroll. A key difference between pathology and radiology is that pathology lab runs like a factory where quality of machines defines the quality of reports as human intervention is minimum. On the other hand, diagnosis of a radiology scan is highly human driven and hence having expert radiologists on payroll helps to build reputation within doctor community and attract more patients, especially in case of complex radiology tests. In India, a radiologist is a scare resource; hence the ability to attract reputed radiologists is a competitive advantage. In our opinion, Vijaya's success in having high quality radiologists is underpinned by following factors:
The founder of Vijaya, Dr. Surendranath Reddy, is a radiologist by profession and enjoys strong goodwill in the Andhra Pradesh and Telangana doctor community due to his experience and focus on quality. Dr. Surendranath Reddy is also an active member of various doctor communities/groups. His understanding of the mindset of doctors as well as reputation for quality orientation is a major factor in attracting high quality radiologists to Vijaya as well as generate doctor recommendation.
The greater the number of cases viewed, the better a radiologist gets at diagnosis. Therefore, high case volumes attract high-quality talent and high-quality talent attracts more volumes – a feedback loop which is difficult to replicate overnight by just throwing money at a diagnostics business. With Vijaya being the largest player in AP and Telangana, it naturally gets the highest volumes in radiology. In addition to high volumes, the promoters have been able to establish a knowledge-based work culture i.e., ability to work on complex cases, writing research papers, etc.
Vijaya has always been ahead of the curve in getting the best in class and latest radiology equipment to India. E.g., the firm is one of the first to bring PET-CT to South India, the first to bring a walk-in CT scan machine in a recently opened lab which is much faster compared to normal CT machine. This not only helps create a differentiation v/s competition for a short period of time but also helps further enhance the reputation within the doctor community and thereby attract complex cases. We understand for our interactions that because Vijaya is one of the largest buyers of radiology equipments and a leading player in adopting new technology, Vijaya has a slightly higher bargaining power with OEMs relative to other radiology labs resulting in ~20% lower capex for equipment.
The second order effect of getting top talent is that it helps to build a strong pipeline of young radiologists from top radiology colleges like PGI Chandigarh, KEM Mumbai as a typical first-year radiologist would have heard of Vijaya diagnostics through industry events.
c. A well-known consumer brand in Hyderabad, Andhra Pradesh, and Telangana: Over time the reputation amongst the doctor community has translated into a well-known consumer brand in Hyderabad as well as smaller towns of Telangana and Andhra Pradesh as many patients travel to the city for treatment. In pathology or basic radiology tests, competitive advantage is built around convenience offered to the consumer in form of shortest turnaround time (TAT) from sample collection to report generation. A dense network of 86 centres across Hyderabad (a centre almost every 1-2 kms) and ~3 processing labs in 3 corners of the city ensures that Vijaya offers a significantly faster TAT of 2-4 hours. Promoters are personally involved in scouting locations for centres + conducting surprise visits at centres in Hyderabad which ensures staff is always on alert. This ensures that customer experience is seldom compromised.
The result: Significant outperformance vs peers
Integrated diagnostics model is a capex heavy model where each spoke requires a capex of Rs ~90 lakhs to Rs 1.1 crores compared to just Rs 2-3 lakhs required for an exclusive pathology collection centre mainly due to investments in radiology equipment. While an integrated model increases the addressable market as a lab can capture radiology business which is roughly ~40% of overall diagnostics market, the scalability of this model has its own challenges due to higher capex and availability of radiologists in India. Therefore, most integrated players are concentrated in regions and find it difficult to build scale and returns in this business. Barring Vijaya and Aarthi scans, most the integrated diagnostic peers have unable to generate reasonable margins/returns on capital employed.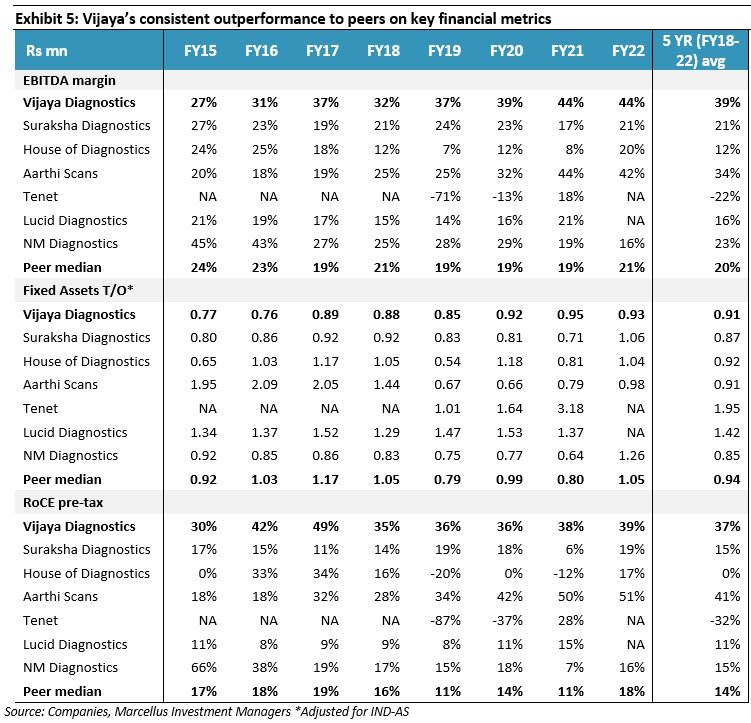 Growth opportunities
Headroom in the core markets of AP and Telangana: In the near term, we expect growth to be driven by expansion outside AP & Telangana given that Vijaya's market share in AP & Telangana is sub 10% leaving ample headroom for growth. The Vijaya brand is well known in AP & Telangana in the doctor community as well as amongst patients which gives us confidence of their ability to successfully replicate Hyderabad's success in smaller towns of AP & Telangana.
Early attempts to expand in East: Vijaya acquired a 65% stake in a listed Kolkata based loss making diagnostic chain called Medinova in 2014 for Rs 4crs (balance 35% is still held by public shareholders). Since acquisition, Vijaya has been able to turn around the company as reflect in the table below:

Vijaya has acquired a building for Rs 11crs in Kolkata to set-up a new lab under the Vijaya brand name which is likely to commence operations in the next 12-15 months.
Inorganic: Vijaya has cash of ~Rs 250crs on books as of September 2022 end. As indicated in the results calls, Management is open to acquisitions provided they get a high-quality lab at right valuation. Given the presence of multiple independent radiology practices across the country, we do not see any challenge on number of options available. The constraint obviously will be quality of lab & valuation.
Key risks:
a. Low technology orientation: Vijaya has not been at the forefront of adopting latest technologies in way of doing business which are becoming powerful tools to ensure scalability, offer customer convenience and generate efficiencies. For example, Vijaya has been relatively late in launching a mobile app or website to book home collections. As consumers increasingly seek the convenience of home collection, which is accessed through mobile apps or website, it leaves space for a new player to enter and capture some of their pathology business market share.
b. Lack of depth in the middle management: Vijaya's business is operationally challenging because all its centres are owned by the firm (rather than by franchisees). This in turn requires high day to day involvement in operations such as selecting the location, managing doctor relations, managing existing centre operations. The promoters are involved in a very hands-on manner in running the day-to-day operations of business and currently there is a lack depth in the middle management. Scalability and growth could become big challenges if Vijaya is unbale to attract high quality professionals to delegate.
c. Artificial Intelligence (AI) – a double edged sword? The ability to attract radiology talent acts as a big barrier to entry for players to enter this industry. Globally, multiple start-ups are working on niche areas (lungs, brain, spine, etc.) to build AI models to diagnose radiology scans. Our interactions with industry experts in this field suggest that in its current shape & form, AI is not able to replace radiologists. However, a consensus view appears to be that AI will help improve productivity of radiologists by at least 10-20% (i.e., radiologists can read more scans in a day). The prospect of AI replacing radiologists is a negative for the likes of Vijaya because it opens the gates to new competition.